Case studies
Pro-Ring roadway MH repair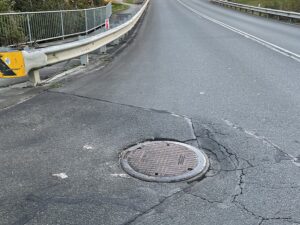 A manhole in a heavily trafficked industrial estate needed urgent repairs and with constant impacts from heavy vehicles including B-Double trucks and loss of material causing pavement damage and risks to traffic, council needed a quick, strong and permanent solution. Council chose to use ISC Services Pro-Ring™ grade adjustment rings for their light weight, high strength and ease of installation.
Pro-Ring™ are a light weight, high strength grade adjustment ring manufactured from Expanded Polypropylene (ARPRO) and are specifically manufactured to raise manholes to surface level and are designed to withstand traffic loadings.
Meeting WSA PS 345 and passing load testing to class D trafficable loads (AS 3996 : 2019), Pro-Ring™ will not crack or break if dropped, is not affected by corrosion hydrogen sulphide and provides a water tight and gas tight seal preventing ingress of water and soil from around the structure.
Council removed the old cover, frame and pavers which had previously been used to build the manhole up. This provided a good flat surface for the Pro-Ring™ to be placed with just a single 4″ (100mm) Finish Pro-Ring™ required.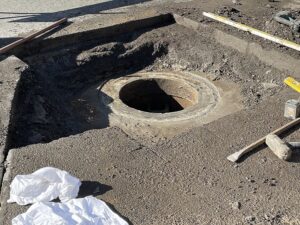 MH ready for Pro-Ring™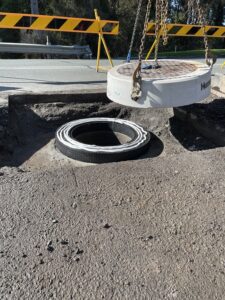 With the Pro-Ring quickly positioned, a bead of M1 adhesive was applied to the top of the Pro-Ring™ and a new heavy duty concrete cover and frame positioned.
The site was immediately backfilled, compacted and then a layer of new bitumen compacted with the road immediately ready for use.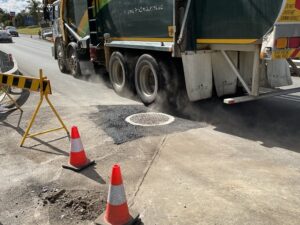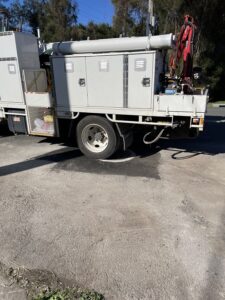 Problem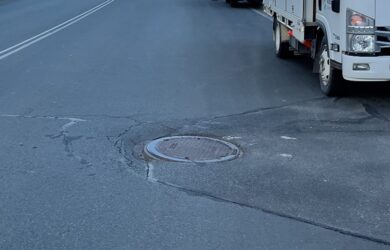 Damaged MH and pavement before Pro-Ring™ installation
Solution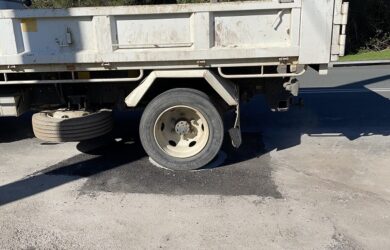 MH repair completed with Pro-Ring™ and road opened for use