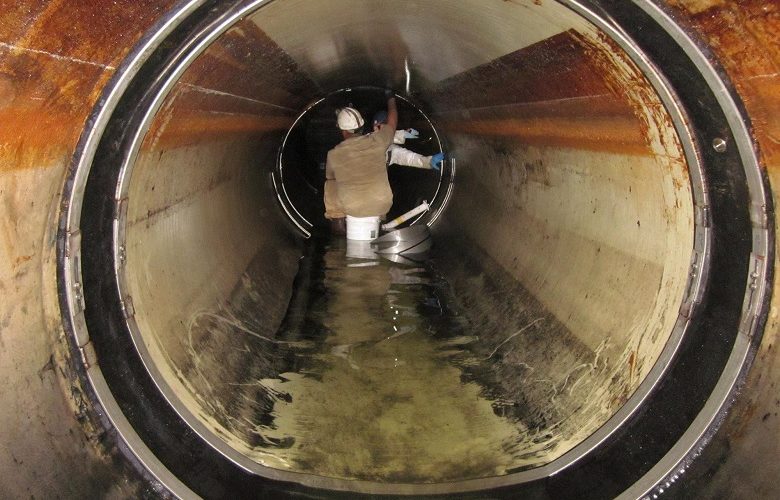 HydraTite® Internal Joint Seal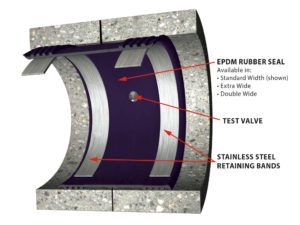 Custom made for each project, HydraTite® seals provide a low cost, fast and permanent repair of leaking joints. Superior quality and intricate design ensures a tight, leak-free seal. Being a trenchless repair method, projects can be completed faster and at a lower cost than excavation and with minimal interruption to surface activites so HydraTite® seals are ideal for repairing pipes and culverts under roadways.
The HydraTite® Sealing system serves as an internal seal for individual joints and, with the patented sleeve system, allows for interlocking of multiple seals to provide a continous seal to any length of pipe.
The HydraTite® system consists of a proprietary rubber seal which spans the joint and is held in place by stainless steel retaining bands positioned on either side of the joint.
Custom made sizes
HydraTite® can accommodate pipe diameters from 18" (457mm) to 218" (5537mm) and, with 350% elongation, the HydraTite® seal is flexible enough to withstand ground settling and movement while withstanding operating pressures of 300psi and 45m head pressure.
HydraTite® advantages include:
No Excavation required
NSF/ANSI 61 Potable approved
Flexibility accomodates ground shifting and settling
Low Profile ensures minimal flow loss
Custom fitted to irregular pipe shapes including oval and box sections
Ideal for End Seal application on relined pipes
Watch the video below to see how easy and quick HydraTite® is to install