Pro-Ring Demo Offer
Have a manhole location with a problem?
Contact us and we will work with you to schedule a free* product demonstration
Step 1
Find your I&I Problem
and take a few photo's
Step 2
Ask us for a free demo
and provide us with some details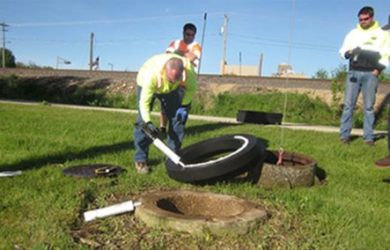 Our Reps will ask you to provide some specific information related to the manhole that you select for the product demonstration. The information required will be the location, specific problem, furnishing photos or video and some measurements. This information will allow us to determine if the manhole is a suitable candidate for a demo, what materials are needed and any special circumstances.
We will provide the materials for up to 300 vertical mm of chimney repair using PRO-RING Manhole Adjustment Rings. We will show you how the product is installed and allow your personnel to be engaged and hands-on.
Your responsibility would be to provide the equipment and manpower if needed. We ask that you coordinate and facilitate any required utility locating, traffic control, pavement cutting, pavement removal and excavation if needed. Any backfill, grass surface or pavement restoration is the responsibility of the owner or utility being provided the product demonstration.
*Limitations apply