Cretex Pro-Ring™ meets new WSA-PS 345 "Polymeric Make-Up Rings for Sewerage Maintenance Holes"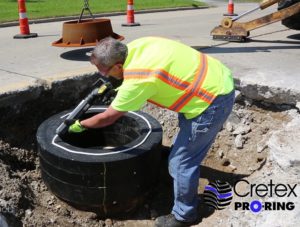 ISC Services are excited to announce that following independent laboratory testing in Australia that was finalised in late October 2019, the results are in and Cretex Pro-Ring™ meets the performance requirements for the new WSA-PS 345 "Polymeric Make-Up Rings for Sewerage Maintenance Holes" and loading to Class D (AS3996:2019).
Pro-Ring™ is proving to be a benefit to councils and contractors with reduced risk of manual handling injuries, faster and more cost effective installs and increased life of the assets.
Key Points:
Ultimate Limit Testing to 240kN (24,473 kg)
Serviceability Load test 160kN (16,315kg)
Fatigue Testing 300,000 cycles at 80kN (8,157kg)
Water tight and gas tight testing passed both before and after load testing
Ultimate limit and Serviceability load tests repeated after fatigue testing and passed
Testing performed on 36-24-600 Grade and Finish Rings
Lightweight rings approx 6.5kg max reduces risk of manual handling injuries
Independent lab testing verifies that Pro-Ring™ Meets WSA-PS 345
While extensive testing in the USA has demonstrated the strength, durability and resistance to infiltration and corrosive gases in sewer environments of the Pro-Ring™, the new WSA-PS 345 and AS 3996:2019 sets the performance specifications higher again and it is confirmation that Cretex Pro-Ring™ has the strength and durability and is the right product for the job.
With testing in the USA including multicycle impact testing, infiltration/exfiltration testing and Proof Load testing to 50,000lbs (22,679kg) and, with the Pro-Ring™ meeting AASHTO M306 for HS-25 Loads as well as being approved for use in roadways in the US and Canada, we were confident in the outcome of the local testing even to the higher performance specifications.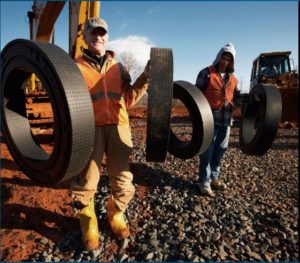 As Pro-Ring™ is extremely light (1/20th weight of concrete), raising MH's to meet grade can be done quickly, easily and without the manual handling risks of concrete rings. Also, unlike concrete, the Pro-Ring™ is resistant to corrosion from hydrogen sulphide and doesn't need any special coatings.

With a large range of heights (from 19mm to 150mm) and with angled rings, you can match the grade better and without the need for shims and packers that just end up resulting in joint failures, infiltration and damage to the road surface around the MH frame.
Cretex Pro-Ring™ also comes with an industry leading 25 year product warranty and a design life of at least 50 years meaning your assets will last longer, providing better value and your whole of life costs will be lower.
While the Pro-Ring™ are make up rings (not frames and covers) and would not normally encounter the direct loading that the frames and covers do, we had testing done to the equivalent loads that Class D frames and covers would experience to really show how tough they are.
For more information or to obtain a quote, Click here to Contact Us